Spotlight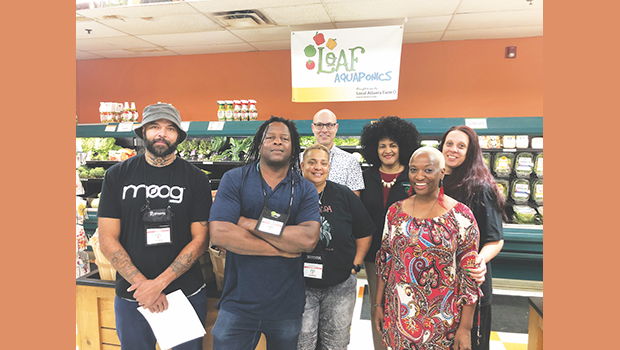 Published on October 31st, 2019 | by Noah Chen
0
The Staying Power of Sevananda
Staff at Sevananda, L-R: Keene Shipmon, produce manager; Ano Dennis, store manager; Sharlise Lowe, member services; Bobby Hays, HR manager; Ahzjah Simons, GM; Carolyn Renee, co-op communications manager; Michelle Taber, kitchen manager. (Photo: Noah Chen)
by Noah Chen
For 45 years, Sevananda Natural Foods Market has provided the people of Atlanta a welcoming space to shop, learn, grow and mingle. From the store's roots to its current cooperative status, one thing about Sevananda has remained constant: its mission to empower the community by improving its health and well-being.
Initially formed to provide healthy food at cheaper prices, and arguably best known as a personal health and grocery store, Sevananda's human resources manager, Carolyn Renee Morris, describes it as more akin to a community center.
"You have the whole retail market, and then there's the educational stuff downstairs, and then there's all the community events we engage in externally," she says.
The label of "community center" is fitting. As a co-op, Sevananda is owned by and answers to a group of 4,200 members, all of whom vote on company matters, and some who serve on the board of directors. Anyone can become a member; it is a democratic, community-led institution.
Close-knit Community
Its close-knit relationship with surrounding neighborhoods has helped Sevananda to thrive, and Morris sees that passion reflected in their customers. "Someone said to me the other day, 'Carolyn, that person has been here for two hours!'"
While Sevananda has been around for years, that doesn't mean it's never been in jeopardy. Ahzjah Simons, the general manager of Sevananda, remembers when in 2010 it seemed like the co-op might not make it to its 45th anniversary.
"The way of the world was seeping in," says Simons, and not everyone behind the scenes was on the same page. "Without having a strong educational piece, people didn't know what they were becoming a part of. It was like hammering a square peg into a round hole."
The disconnect led to complications in management. "That whole seesaw required that we really learn what co-ops are about—internally—and it was really important that we got back to that."
The financial pressure the country was under at the time only exasperated issues, and the co-op was overspending. But Simons, Morris, and other members of the staff were able to right the ship.
Aiyana Smith recently moved back to Atlanta after living in Hawaii for several years. She had shopped at Sevananda before and was happy to return to the store. "When I'm in the area, when I need to grab something, I go there. It's the only place in the area that has access to quality food, organic and vegan options, that kind of stuff," she says.
While Smith isn't a member of the co-op, she says its status gives the place a different energy. "I do feel when I go there that the atmosphere is very open and inviting. Besides the healthy options, it feels like a place I want to support."
Smith is not alone in favoring Sevananda for its healthy merchandise. The biggest change Morris has seen in their customers over time has been the consciousness of the people. "They are concerned about what's going in their bodies and what's going on with the planet," she says. "So, our focus is to do more of what we already do—only better."
A Legacy to Continue
After passing their 45th year in service, Sevananda is well positioned to continue its legacy into the future. And while Simons and Morris have ideas for the co-op's expansion, their immediate goal is to continue to improve the function and service at their current location.
While Sevananda has had its share of crises, Morris sees this as part of "the organizational life cycle. You're born, and then you go out and be great, and then you stumble, but you make yourself greater."
Simons adds that the crises showed them what Sevananda needed to do to survive. For her, it all comes back to "the people" and how they're treated: "Democratic member control, having a voice in the organization, community involvement—we got away from those and that's where we stumbled. Mastering that—again—is what brought us back. Being who you are supposed to be makes a difference for your sustainability. And we remembered who we were!"